● Our membership card (Required to check in, check out, locker room)
● Any type clothing in which it is easy to train and move.
  Many people wear a t-shirt and jersey pants or shorts.
  Indoor training shoes (Please bring exercise shoes that are for indoor use and not outdoor use.)
  We recommend fitness shoes that have cushioning.
● Towels (for wiping sweat and for showering)
  ※Please note that the shower equipment, etc. varies from one store to another.



This gym is open 24 hours a day, every day of the year, so customers can use it as much as they like, at whatever times and days of the week are convenient for them. It is possible to enter the building with a simple touch of your membership card.


Place your hand luggage in a locker and proceed to the changing room.
Thorough security is provided so women can change clothes with a sense of reassurance.
After changing into your training clothes, proceed to the exercise machine area.


There is an extensive lineup of aerobic exercise machines and strength training machines, etc.
Enjoy training to your heart's content at any hour.
Staff members attentively provide support to first-time visitors regarding how to use the machines.


After pleasantly working up a good sweat, customers can refresh themselves at the shower room.
There is a thorough security system so it possible for customers to use the shower room with a feeling of relaxation.

※Please note that some stores do not have a shower room.
Your understanding is appreciated.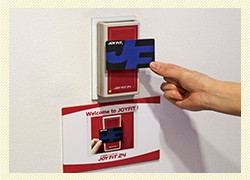 Simply touch your card at the door to exit.
Thank you for visiting.