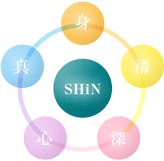 JOYFIT has developed original yoga programs with the objective of enhancing the natural healing abilities and stress-coping capacities of the human body, while incorporating the five Japanese "SHiNs" of "tuning, detox, concentration, healing, and inquiry." These are special programs providing long-lasting beauty and health effects.

This is yoga that gives deep relaxation to the mind and body based on the repetition of tension and release.

This is yoga aimed at eliminating waste from the body.