There are various types of yoga, and some customers may have concerns regarding a "lack of flexibility" or "body stiffness and not enough physical strength." Lessons at JOYFIT YOGA are focused on "enjoyment" and "soothingness" for all customers from beginners to advanced
practitioners, so it is possible for students to enjoy training at their own pace. Members can take as many lessons as they like. An advance
reservation is not required. Customers can take as many lessons as they like over the course of a given day, based on their mood.


The hot lessons take place in a warm room.
For the hot lessons, yoga is performed in a studio with a suitable temperature (about 36-38ºC) and humidity level (60-70%). When the body is warm, flexibility is dramatically increased. Muscles and joints move more easily, blood circulation is improved, and the movement of inner organs is stimulated. The body sweats a surprising amount when performing yoga in this type of environment. This extensive sweating releases waste from the body, cleansing the body from within and beautifying the skin.
The regular-temperature lessons take place in
an ordinary temperature environment.
The regular-temperature lessons are recommended for persons who are concerned about yoga under hotter conditions, or would like to work out in a more leisurely manner on a given day, etc.
At JOYFIT YOGA, it is possible to take as many lessons as you like, so for example, you can take a hot lesson after enjoying a regular-temperature lesson. Customers can develop their body's sweating mechanism so that they can work up a good sweat even inside a regular-temperature studio!
Clothing for lessons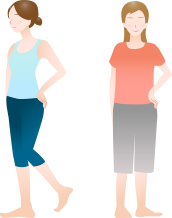 Customers are free to wear whatever clothes they find comfortable. Any type of clothing
that is easy to move in, such as a t-shirt and shorts, etc., is fine.
You will sweat a lot, so please bring a change of clothes.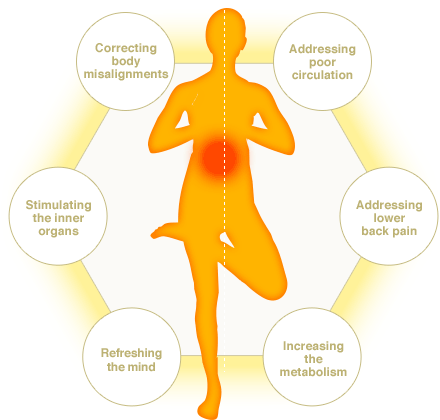 The yoga at JOYFIT effectively combines postures and breathing techniques so that programs work on the entire body.The poses not only strengthen outer and inner muscles, but also increase the range of motion of joints, so body misalignments and pelvic misalignments can be corrected. Many customers visit to address concerns related to lower back pain and poor circulation.