JOYFIT YOGA has developed original yoga programs with the objective of enhancing the natural healing abilities and stress-coping capacities of the human body, while incorporating the five Japanese "SHiNs" of "tuning, detox, concentration, healing, and inquiry." These are special programs providing long-lasting beauty and health effects.
This program is easy on the mind of body, so even persons who are not very skilled at yoga and persons who dislike hot-studio yoga can participate with a feeling of confidence. This program is recommended for persons who are not in the habit of exercising (beginners), persons who are mentally and physically fatigued, and persons who would like to enhance their self-maintenance abilities.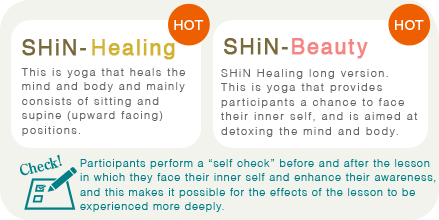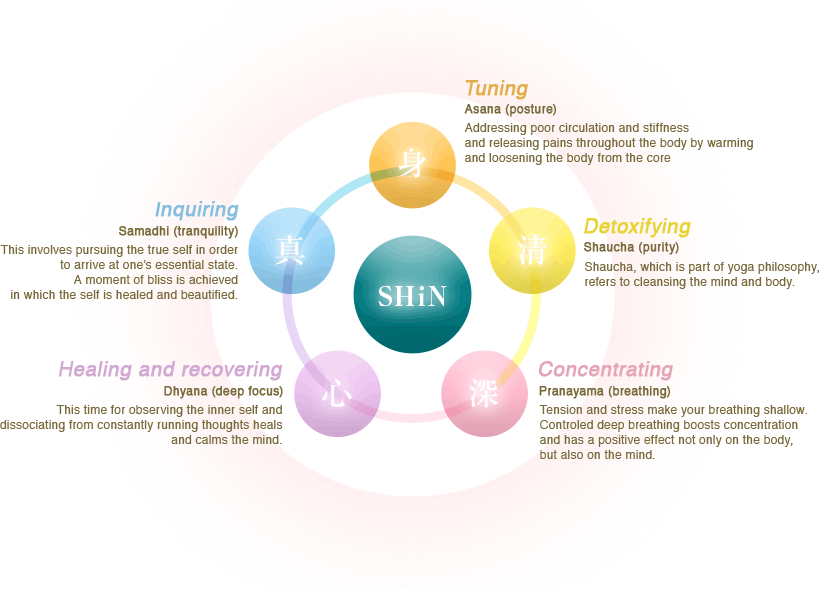 Profile of the supervisor of Natural Yoga SHiN program development
Director of joint company Ramutafu Beauty & Health Care Division / Representative of "With YOGA JAPAN Academy"/
United States Yoga Alliance E-RYT 200 Health and Exercise Educator, Japan Health Promotion & Fitness Foundation

Based on the mission "creating a healthy and abundant future by connecting the mind and body, people and people, people and society, and Japan and the world, through yoga," Ms. Kato helps students develop a lifestyle for their own unique and happy approach to life. With the themes of health and beauty, Ms. Kato gives lessons and lectures across Japan at yoga studios, spa facilities, fitness clubs, hotels, major department stores, and so on.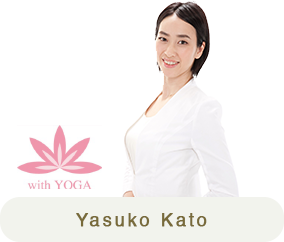 This a type of exercise that combines music with stretching and training based on the latest developments in exercise physiology, incorporating traditional yoga, tai chi, and Pilates. This program releases stress, improves physical functions, develops flexibility, balance, and core muscles, and makes body movements feel smoother and more agile.


Class
HOT/Ta
level
intensity
Recommended
for beginners
Morning YOGA
HOT/Ta
beginner〜intermediate
♦︎♦︎♦︎
○
Refresh YOGA
HOT
advanced
♦︎♦︎♦︎
○
Relax YOGA
HOT
beginner〜intermediate
♦︎
○
Basic YOGA
HOT/Ta
intermediate〜advanced
♦︎
Healing YOGA
HOT
advanced
♦︎♦︎♦︎
Detox YOGA
HOT
beginner〜intermediate
♦︎♦︎
○
Natural YOGA
HOT
intermediate〜advanced
♦︎♦︎
Aroma YOGA
HOT
advanced
♦︎
These are some examples of programs that are offered.
For detailed information, please check the webpage of the relevant store.