Facility Guide

Membership card
(This is needed for entering and exiting the building and using the lockers.)
Any type clothing in which it is easy to train
and move Many people wear a t-shirt and jersey pants or shorts.
Indoor training shoes.
We recommend fitness shoes that have cushioning.
Towels (for wiping sweat and for showering)
※Please note that the shower equipment, etc. varies from one store to another.

Building entry procedure at the front desk
Please hold your membership card up to the gate and enter the building.

Changing clothes at the locker room
At the locker room, please change into your training clothes and then exit to the training facility.
Do not forget a towel!

At the training facility
Please do not hesitate to speak with one of our instructors.
Our strength training machines, running machines, and so on can be used at any time.
We have created a "100-day Training Menu" in order to provide thorough support with
regard to the questions and concerns of members.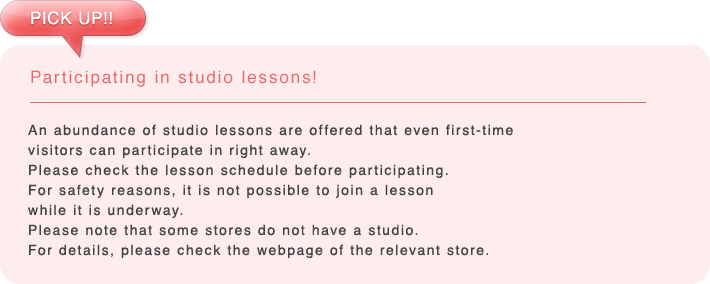 Using the shower room, relaxation room, and communication space
After throughly washing off the sweat that you have worked up while engaging in sports, at our shower room, you can make yourself comfortable at our relaxation room. Also, please feel free to use our communication space to have an enjoyable time with friends.
*Please note that some stores do not have a shower room. Your understanding is appreciated.
For details, please contact the staff of the relevant store.

Changing clothes at the locker room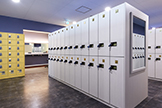 Thank you for coming our gym.
Please check out at the front desk.
*Please note that the facilities vary from one store to another.